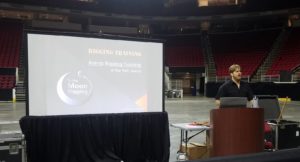 Rigging and safety training is vital to the entertainment industry, and Tri-Luminary, Inc. offers classes to meet that need through To the Moon Rigging. We offer several class titles for different skill levels.
To the Moon Rigging's founder Justin Argenio is the ETCP Recognized Trainer, and his bio can be found below.
Classes are offered in the Raleigh Durham area on a regular basis, and by arrangement in many other locations. These classes qualify for ETCP Continuing Credit, and IATSE local unions may be able to obtain Training Trust grants to substantiall offset the cost.
Training Dates for 2018 will be announced soon. Courses will include some combination of these topics.
Introduction to Basic Rigging • Intermediate Rigging • Advanced Rigging • Rigging Math • Counterweight Systems and Theater Rigging • Aerial Work Lift Certification Training

---
BIO
Justin has been working in the entertainment industry since 1999, and rigging since 2004. He began his career young as a stage manager and audio technician for his family's small musical theatre company, the Fable Factory in Florida. After working there for several years, Justin attended Santa Fe College for technical theatre stage management, and got a job at the Curtis M. Philip Center for the Performing Arts as the assistant rigging supervisor to help pay for tuition. Intrigued by the craft of rigging, Justin enrolled at Florida State University for Theatre Production Management and Structural Engineering. He worked around the state throughout his college years at many venues in various positions, but always returned to rigging. Upon graduation, Justin moved to Chicago, and continued his freelance career: rigging big name concert acts, drafting rigging plots for the largest conventions in the world, installing theatre counter weight systems, and travelling as a rigging trainer. Justin started To the Moon Rigging while still in Chicago as a rigging project management company in 2014. In 2015, Justin moved to Durham, NC, and expanded To the Moon Rigging to include production design, project management, staffing, and training.