I'm heading home from Live Design International's (LDI) 2017 trade show and conference in Las Vegas.  It seemed like a great time to reboot my blog.  Bear in mind as you read on that I wasn't just looking at products on the floor. I was speaking to potential clients, and trying to make connections for one of my existing clients, and reuniting with old friends, so if I missed something stupendous, it's not surprising. Don't take it to mean that I deliberately am snubbing a manufacturer or product.  I wasn't systematic in trying to find things; it was a big pinball game and I bounced around it for several iterations a day. These are just the highlights of what I saw, but it was a large show and I am just one observer. This is not, therefore,  a list of "what's the best". It's a list of what I spent time with, for whatever reason, that I liked.
Jeremy's LDI 2017 picks.
Here are some of the things I saw at LDI that caught my eye. No particular order.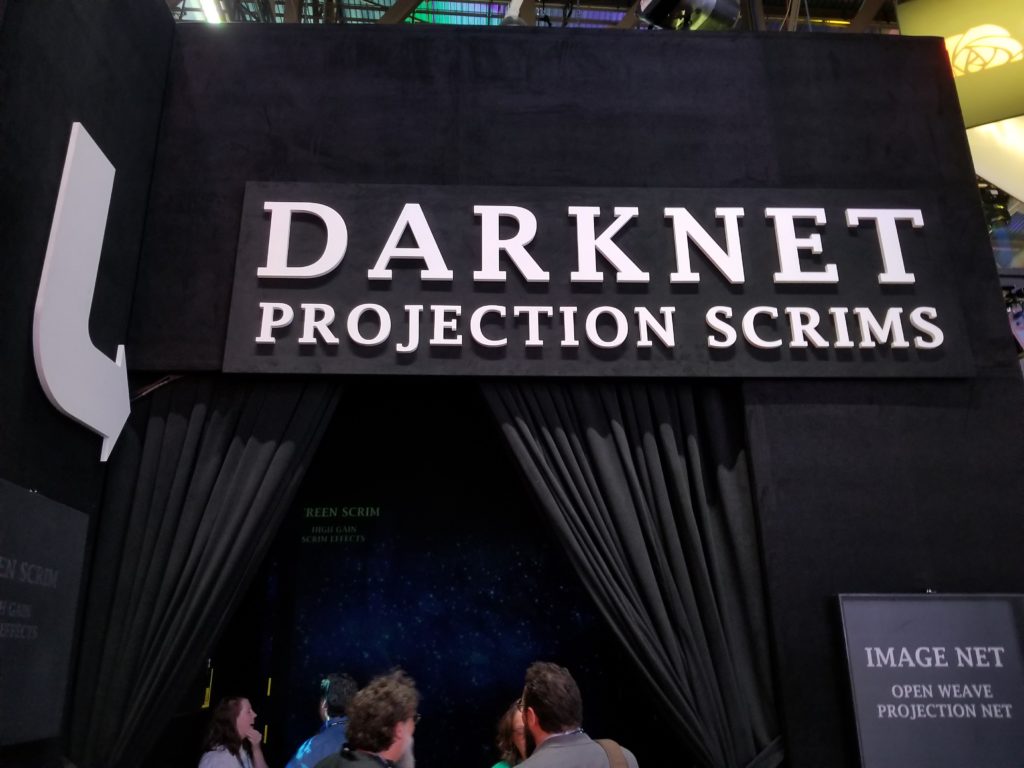 My first nod goes to Rose Brand's Darknet Projection Scrims.  In reality this was a little gem, but you had to be close by to understand why. Standing across the show floor, or 40 feet away, you would only see a sign. If you came all the way in, and this had to be from only one side of their booth, then you could get the effect. It was like this because the effect would not be that impressive with a lot of light pollution, and we were at a show where that was rampant.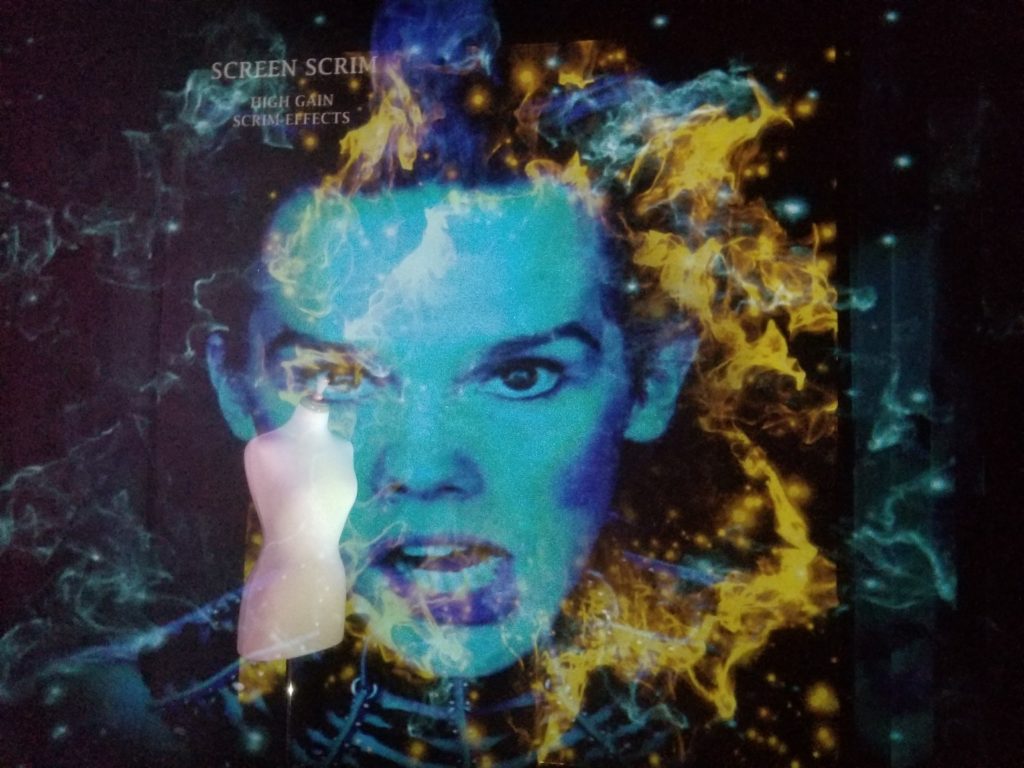 What were they showcasing? There are three different fabrics, at different weave densities. They are all impregnated with a high gain resin material. It doesn't affect the scrim's ability to become invisible when backlit, but it lets an image that is front-projected get more traction.  So, you could have an almost holographic effect.  Maybe you would use it for snow to fall both behind and in front of a performer. Maybe fire could be the image projected. Or some other  thing that might float in front of (and behind) the thing you want to put in the middle. In this display it was a mannequin but imagine a human, or some piece of scenery. I'm sure they can show this off more clearly on their website, but I took a few photos.  They don't do it justice, but take a look. And by the way, it's not just that this product impressed me, I also want to honor the way that Rose Brand displayed it, that was very cool indeed. There were around 20 examples of video projected on the front and back scrims, selectable from a tablet, and it just was fun to stand around and look at with people. I took a few colleagues over there just for the sake of watching them enjoy it.  Darknet Fabrics from Rose Brand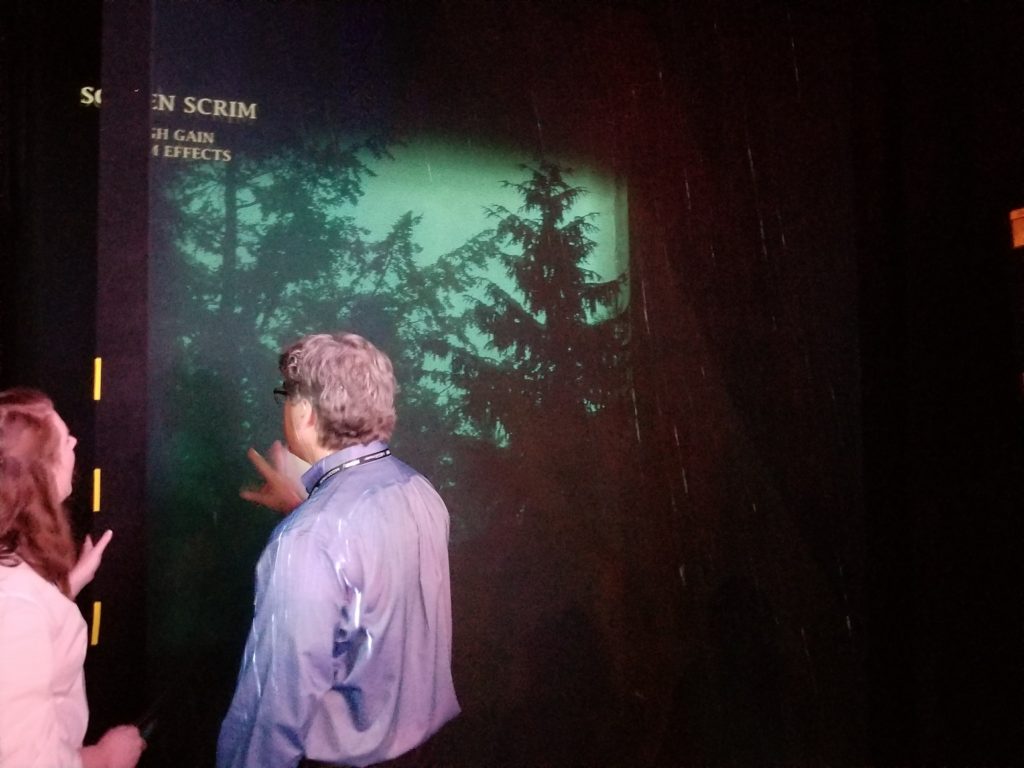 ---
I liked ETC's new Color Source Cyc Light. It was a lot of punch for a small fixture about the size of a kleenex box. The blend was great, and the color mixing looked appealing. I'd love to begin using these on either a theatrical cyc or as uplights for a corporate gig where the pipe and drape surround (or back wall) needed some treatment.
| Top view | Side View | What the light can do to a surface it is aimed toward |
| --- | --- | --- |
---
There's a new software product called Notch, which was in the realm of content creation for projections. It is pretty hard to describe, but it allowed some things you'd be able to do in Cinema4D or another Effect Generator, and it does them more programmatically for powerful combinations. In the example I saw, they were using motion capture to create a visual that looked liked a person made totally out of water, or energy bubbles or something like that. A person which moved as the person controlling it moved, very smoothly. That was tied into a Green Hippo media server, but they also seem to be compatible with AI, D3, and 7th Sense.   Regrettably I didn't get to the 1 hour demo of this, so I never got to take a picture. But my content creating friends should give it a look. https://www.notch.one/
---
Robe brought quite a show to Vegas. Their booth was styled as Robe City Music Hall, and it had a dancer in a mirror ball suit channeling Michael Jackson, performing in synch with the lights. Due to other agendas, I didn'actually learn much about the lights they were showing off, to be completely honest. I really should have'; they deserved that much for what they put together. While keeping to my schedule, I jsut had enough time to notice that the lights looked cool, and audiences seemed appreciative. I can't tell you what they did or how they were improved over last year's model. If I'd been there mainly to pick a moving light for a project, this would have been a fun booth to do it.
| Robe booth at LDI 2017 featuring Mirror Man | Robe City Music Hall |
| --- | --- |
---
Do you ever let out a curse when you're working near a road box and realize a little too late, that a hinge or a clasp is somewhere your shin is trying to be? Do you have scars on your legs to prove it? I do. This is part of why a road case company called Fiasco had me dragging friends over to see them. They showed me a cable box that had some really good innovative features.
The new hinge they have designed lets the lid rotate 270° and rest against the base (it remains attached, but gets wholly out of the way).
A 3/4″ birch plywood construction is edged with a metal extrusion that is half-round, and the top plunges into the sides, so it's not going to have a problem shutting.
With two cut-outs for pulling cable out of the box, this kind of edge-liner is never going to rip up your cable jacket, because it's smooth and low on friction.
There are 8 wheel cups on the top so you can stack either another box that's 30″x48″ or two that are 30″x24″, when you're packing your truck. Speaking of that truck, it was Fiasco's video display of how their boxes pack efficiently that first caught my eye. #truckpackology.
---
RC4 was very kind to me in facilitating my ease of entry into all the places I needed to get into at the show, so it's only fair to disclaim that they did me a solid but in no way influenced my sharing the following opinion.  They had a great way to show off some of their new technology, the RC5 EASS high power, long range transmitter. This was demonstrated by having two identical dresses that were constructed with sequin-covered LED pixels in several decorative lines.  One dress stayed on a mannequin in the booth, the other was worn by their Production Manager Brianne, all around the show floor and a good way farther as well. Its range was impressive, and someone else must have noticed this too, as they were awarded something significant for the product.  [I will add a photo of the dress when available.]
---
Would you believe that my last pick is basically a slinky? Well, it's not ONE product, it's a few, but they included one that looked a good bit like a slinky and a fellow visitor to the IGUS booth pointed the resemblance out. What do they do? They make retractable/extendable cable management that doesn't require a slip ring. It folds the cables, or it uncoils them, depending on which model, in some very cool ways.